Last Updated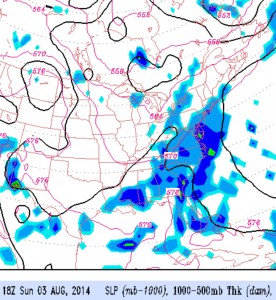 Our string of beautiful weekends appears to be ending this coming weekend.
The upper air trough providing the cooler than average weather will remain entrenched aloft as high pressure in the northern Atlantic tries to build westward. As a result, an easterly/southeasterly flow from the ocean will converge with the dry, cool upper flow of the trough over us, creating a retrograding coastal warm front for the next few days.
The Shore and areas south appear to be in the maximum convergence zone and will have the most clouds and rain. The GFS has depicted areas west of Philadelphia to be among the dryer areas, although the exact placement of the moisture convergence is difficult to determine.
So will the weekend be a total washout? Perhaps at the Jersey Shore, but not necessarily in Philadelphia or areas west.
At this time, all we can say is that more clouds and chances of showers are possible throughout the weekend. Yet, the models did poorly last weekend predicting the cloud cover and showers, and were equally wrong about the cloudiness this past Tuesday. So it's clear that the models have had trouble with this anomalous trough providing the cool weather.
Sat 8/2: A mix of clouds and maybe some sun at times. More humid. Chance of showers, especially during the afternoon. High 81.
Sun 8/3: Continued cloudy, possible bright spots and sun, with a chance of showers. Humid. High 82.