This post was revised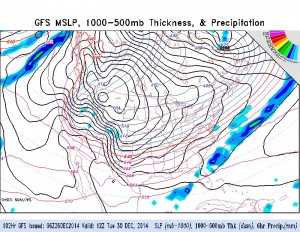 Over the past few weeks, the weather forecasts beyond 3 or 4 days have been anything but reliable. Perhaps you've noticed?
With much of the energy coming in from the Pacific ocean where measurements are sparse, the weather system developments over the US have been difficult to pin down.
We are now going to see a major change in the overall weather pattern, perhaps due to the next phase of the Madden-Julian Oscillation. Over the next week, an anomalously large area of high pressure will settle into the Southwest and Rocky mountain states bringing extremely cold temperatures to areas that last winter were very warm.
We will get colder, but the frontal boundary of this cold air will be not too far to our south.
The disturbances hitting the west coast from the Pacific are expected to be shunted to the south below this boundary.
The GFS currently keeps us cold and dry.
Here's the rub– with this sort of scenario, it doesn't take much for a disturbance to form along the stalled frontal boundary. So instead of just cold and dry weather (as currently predicted by the GFS) we could end up with icy or snowy storms. Stay tuned.