Update Thurs 8 PM highlighted below
Update Fri 11:30 AM highlighted below
High pressure that brought in the chilly weather for Thursday will be well off the coast by Saturday.
Low pressure advancing towards us will develop as it moves in our direction. Depending upon the model, it will be right over us or just to our south Saturday night.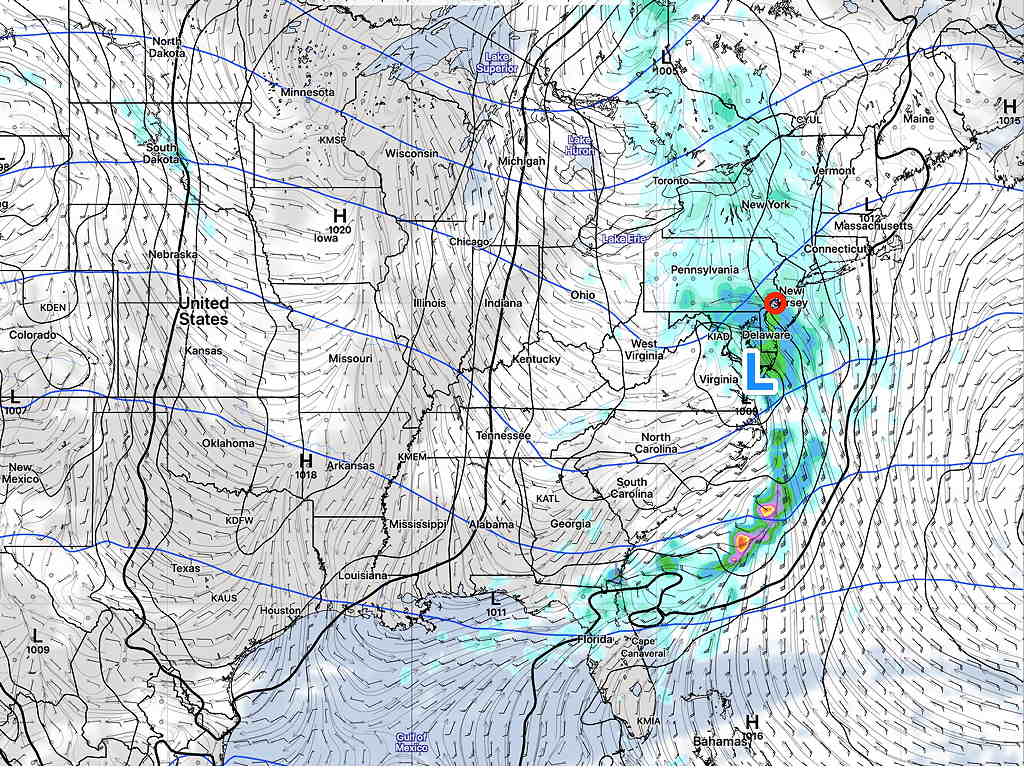 Saturday
A return flow of moisture ahead of this low pressure system will bring considerable cloudiness for Saturday, but no rain expected during the daytime.
Update: Saturday will be sunny in the morning, then thickening high clouds. Mostly cloudy by about 3-4 PM Saturday.
Rain should develop Saturday evening. Rain starts about 6-8 PM. Fairly heavy rain at night. Rain starts about 9-11 PM. Total amounts have decreased to about 0.6-0.9 inches of rain.
There are some differences between the Canadian and US models, but the US models have been consistent that we get about 0.75 + inches of rain Saturday night. (The Canadian GDPS has less development and much less rain.) High about 68º NBM Blue Bell with low spread (uncertainty) of 0.8º
Sunday
The big question is how much development, how quickly the storm leaves and how much of an increase in its size due to intensification on Sunday. The models have varied. The NAM has some clearing Sunday morning. The GFS, Canadian and Model Blend (NBM) have lingering showers and clouds into late morning or early afternoon.
Update: Most models are showing the rain ending in the early to mid morning Sunday with gradual clearing.
High about 65º NBM Blue Bell with moderate uncertainty of 2.8º Very Windy.
Wind Forecast