Thursday Eve Update: There are already changes in the weekend forecast.  The upper low is now expected to spawn a coastal low pressure system that forms over the Delmarva area and moves north on Saturday.  Saturday that had been expected to be the drier day is not looking that way right now.
The latest NAM high resolution has rain starting in PHL as early as noon on Saturday, while the GFS holds it off until 4-5 PM. (earlier along the coast.)
Here's the current High Resolution NAM forecast for Saturday afternoon—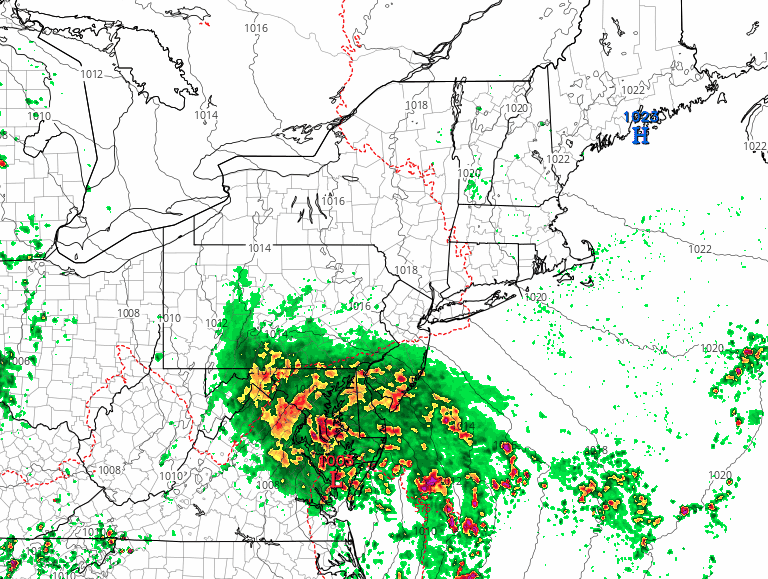 This will be a complex system and the modeling of the upper low and its surface reflection often leads to inaccurate forecast placement of precipitation.
Either way, the next 6-7 days will be very unsettled with periods of heavy rains.
---
Wednesday Eve: An interesting weather scenario for July is shaping up for this weekend and next week.
An weak impulse will move from the Rockies and develop into a low pressure system near Ohio.  With upper air support, this low pressure will transport warm, very humid and unstable air into our area by Saturday evening.  A persistent threat of showers and thunderstorms will be with us from late Saturday through at least next  Wednesday.  High dew points will make it feel very warm, although significant hazy cloudiness may limit high temperatures.
Saturday will be the better day this weekend, with showers likely holding off until late in the afternoon or evening.
Sunday looks to be more unsettled with intermittent  showers likely much of the afternoon.
As we saw last weekend, forecasts can change significantly.  I'll update Friday evening.