Last Updated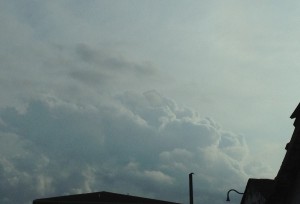 A blocking pattern is causing high pressure near Nova Scotia to maintain an easterly flow of moisture, resulting in considerable cloudiness, cool temperatures and an ongoing chance of showers on Saturday.
This high pressure system is expected to build down over us later on Saturday, allowing a more northerly flow of drier air.  Clearing skies late Saturday should remain with us through Sunday.
The NAM has a much greater chance of showers during the day on Saturday than the GFS, but it has a tendency to overstate precipitation lately. Neither model has done very well with this blocking pattern over the past week and I have lower confidence in this forecast, especially for Saturday.
Sat 8/23: Mostly cloudy, a chance of widely scattered showers but mostly dry. Brightening skies late in the afternoon. High 77.
Sun 8/24: Sunny and warmer. Some fair weather clouds develop in the afternoon. High 83.