Update Sun @ 8:04 PM —
Forecast Review— Except for the thunderstorms and heavy rain around daybreak, few things followed last night's model forecasts.
The main issue was the warm front didn't pass that far to the north; we never got into a very warm, humid unstable flow.

The periods of sunshine we got in the afternoon were forecast, but I noticed that many of the TV/radio forecasts had somehow omitted the sunshine in their forecasts.
Last night's very neat HRRR forecast of three to four separate waves didn't quite come to pass.
While some scattered storms developed around the late afternoon, the areal coverage was far less than forecast.
Warm fronts are often poorly handled by the models.
Some additional rain is expected overnight.
Update Sun @ 4:57 PM — We had the sunshine this afternoon and scattered storms have developed just east northeast of the city over the past hour. Additional storms associated with an upper air disturbance is moving through Harrisburg now.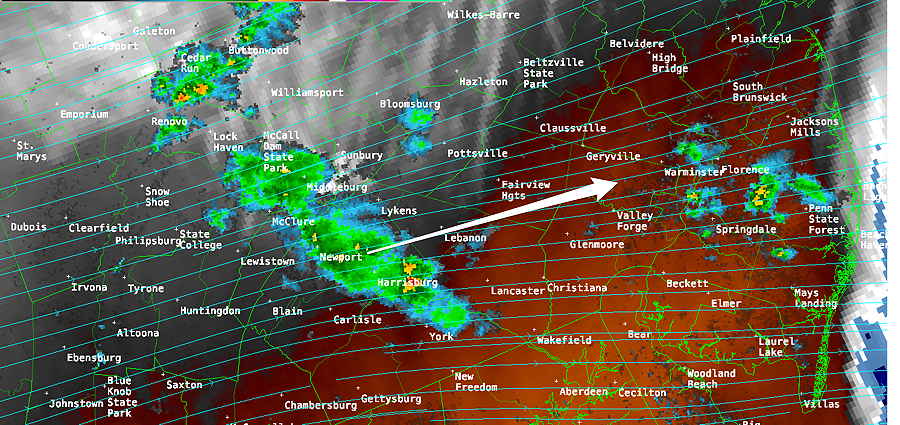 The warm front barely got north of our area, so we didn't have the higher temperatures and humidity, nor the "second batch" of thunderstorms that had been forecast early afternoon.
The latest NAM-NEST and HRRR show additional scattered thunderstorms developing around the immediate PHL area during the evening with another group of storms moving through about 9-10 PM. Heaviest activity expected northern areas—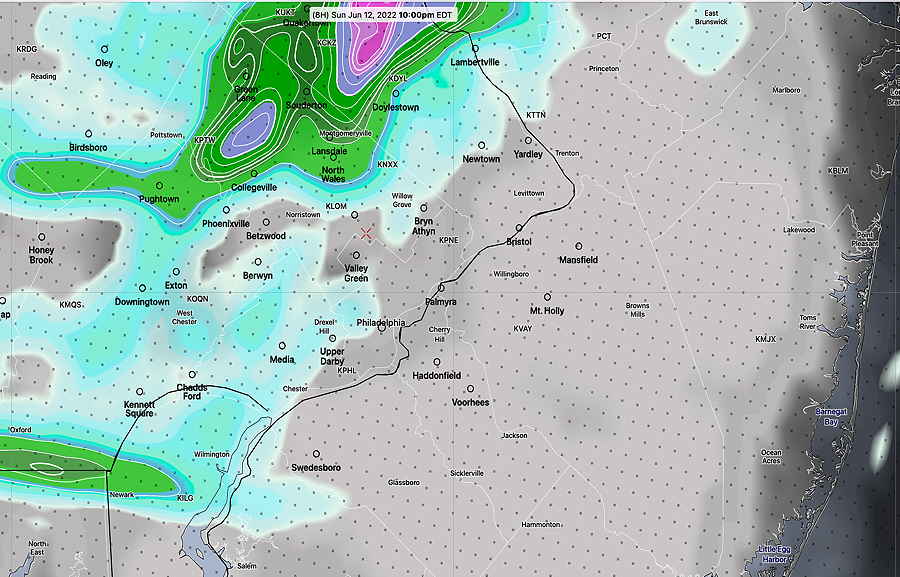 This coming week's weather will be interesting. And a forecast challenge.
The cold front that is moving through later tonight will stall just to our south as additional waves develop along it. Stay tuned.
---
Update Sun @ 9:46 AM — Based on the match up comparison of current water vapor imagery with the GFS model forecast, I'm going to lean towards the GFS in regards to cloud cover. The GFS shows a breaks of sun developing by early afternoon and lasting through the afternoon. Still some widely scattered storms around.
Next upper wave (thunderstorms), according to the GFS, is about 7-9 PM tonight. Heaviest activity northern areas.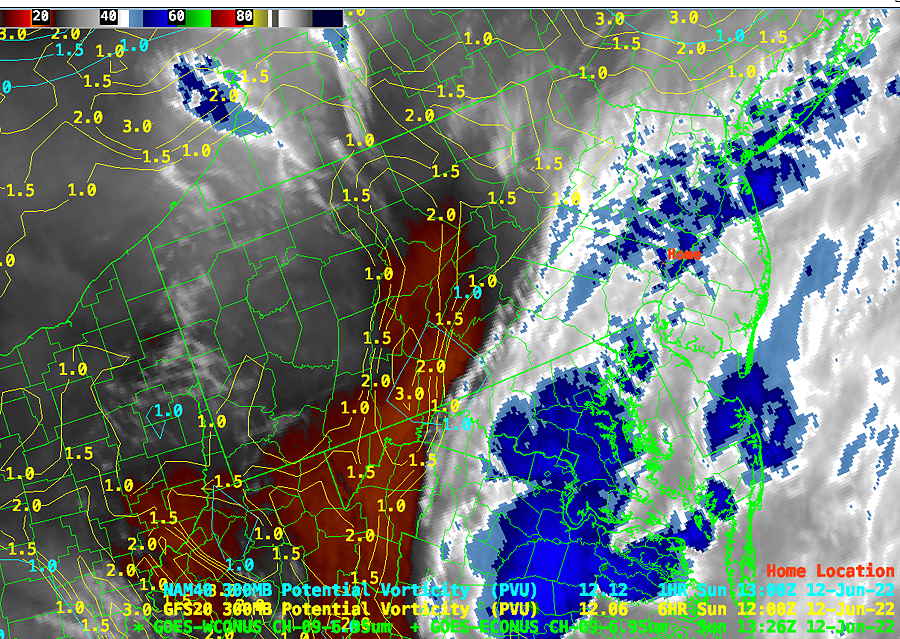 An interesting and complex system. Stay tuned.
---
Updated Sun 8:31 AM — The first round of storms has moved through. Some additional activity late morning.
I do think that we'll see some breaks of sun developing behind the warm front after 1:30 PM. ( I don't think that's the NWS forecast.) Additional scattered storm activity possible with sunny breaks during the mid afternoon.
Any sun will provide fuel for strong storms later afternoon. The latest Canadian high resolution model has strong storms 4-6 PM. Additional storms this evening and as late as 3 AM Monday morning.
Later model runs will be needed to assess the possibility of any severe weather. Not seeing that right now.
---
Updated Sat 10:14 PM —A strong jet stream influence extends into Sunday as several upper air disturbances move through from early morning through late at night.
Several models suggest that the storms will occur in several waves.
Here's the HRRR showing the last three rounds—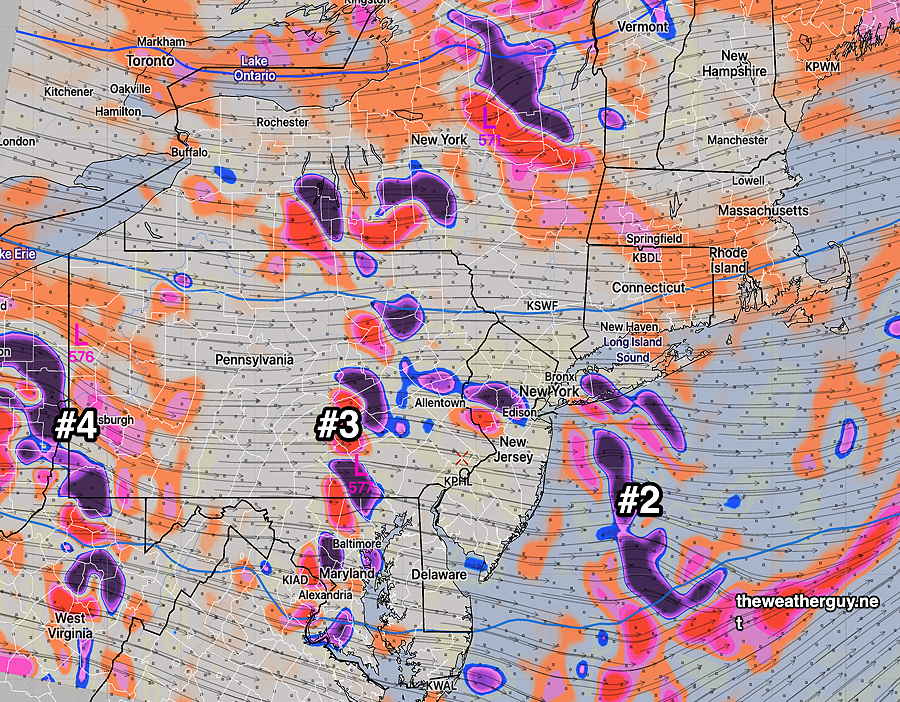 First, around daybreak, a warm front will gradually lift through to our north. Showers and thunderstorms break out as early as 6 AM.
Another wave of storms with an upper air disturbance will occur late morning, possibly very strong south and east of the city.
(There will likely be some sunshine between these waves. Any sun will increase potential intensity of the storms. )
Another round of storms develop early to mid afternoon in response to some possible sun, instability and upper air disturbances.
The strongest round of storms occurs after 6 PM through midnight as a cold front approaches from the west. This round of storms could be have severe elements, as CAPE values increase and areas of helicity and shear add to the mix.
This final round may last well past midnight as the front will be slow to move through and additional waves develop along it into early Monday morning.
An interesting day, weather-wise. Stay tuned.
---
Update Sat @ 9:50 AM — My prior 8:08 AM update broke the cardinal rule of weather forecasting: Never create/update a forecast without first wchecking current radar and satellite imagery.
The latest MRMS shows showers in western suburbs rapidly moving up northeastward—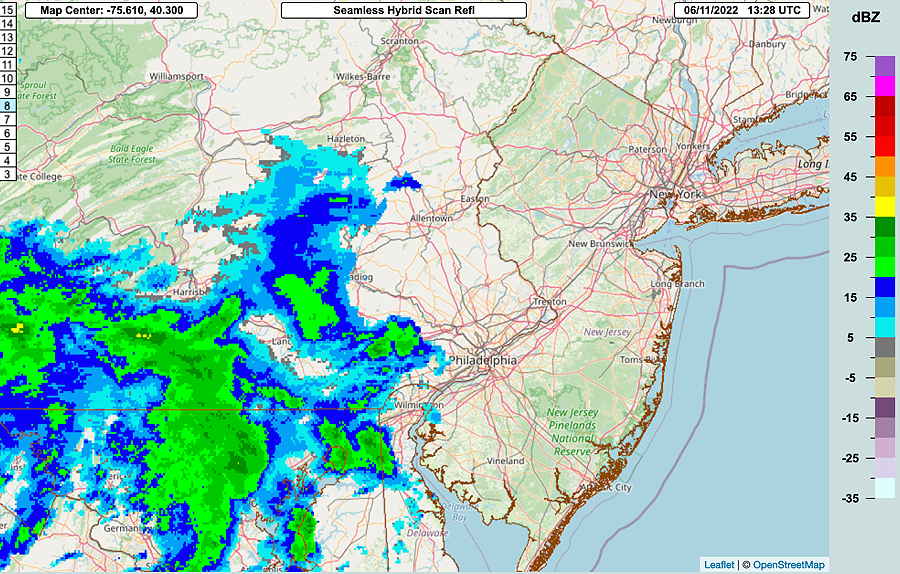 The latest HRRR (12z) just became available shows scattered showers at 1 PM however these showers will be VERY LIGHT in our area (0.01-0.02″) —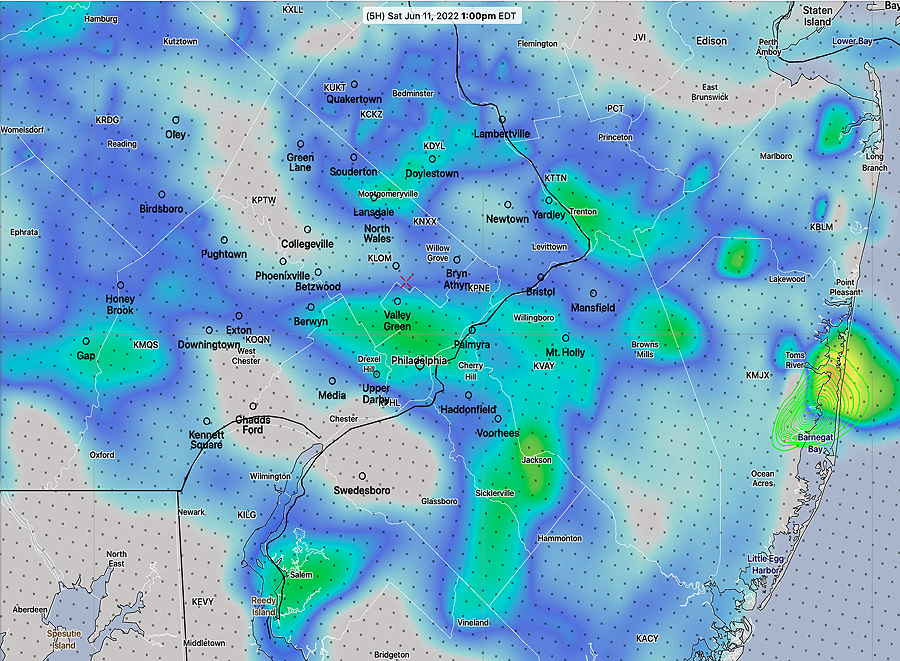 Last night's original forecast and HREF graphic is looking more like the right call with showers moving in late morning into early afternoon. Still a low confidence forecast.
Updated Sat 8:08 AM — Today's "lower confidence" forecast is living up to its billing. The upper level lift appears to be less even successful in setting off surface rain.
The latest RAP ensemble (NARRE Model) shows very light amounts of rain, mostly far southwest of the city and eastward at the shore mid to late afternoon. Many areas dry and any rainfall amounts very light where showers do develop.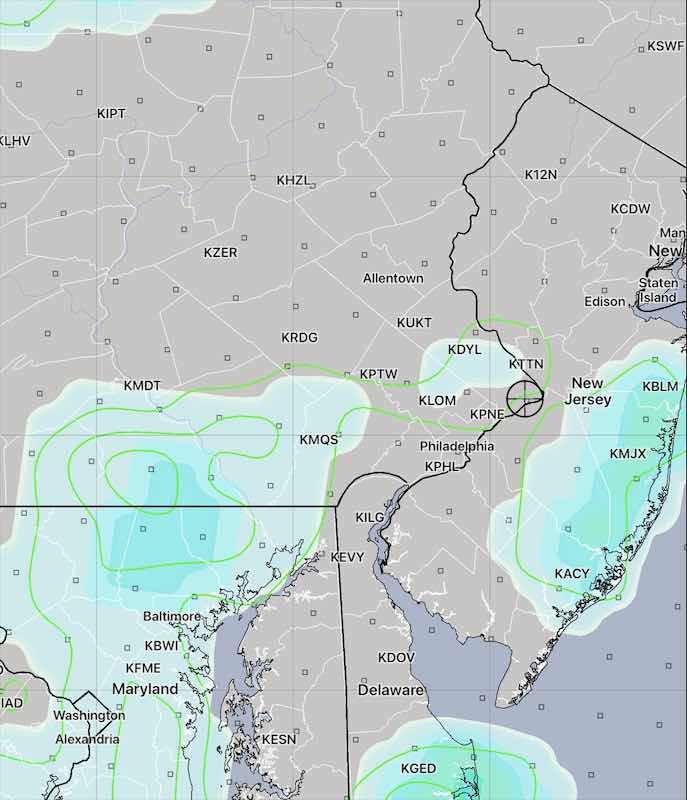 Updated Fri 10:51 PM — Updated Saturday forecast below.
Updated Fri 8:22 PM — Updated the Sunday forecast below.
As discussed in earlier "This Week's Weather" the weekend forecast will be heavily influenced by departure and approach of jet stream wind speed maxima (called jet streaks). These changes in speed and changes in direction cause vertical motion leading to clouds and rain (if moisture is present)
Since jet stream motion can't be measured as often and accurately as surface based parameters (humidity temperature, pressure), jet stream-dependent weather systems have inherently lower confidence in details.
Saturday
Such is the case on Saturday where a departing jet streak and sharp curvature of the jet level winds will result in showers. Previous models showed some sun on Saturday. The latest HREF shows little in the way of sun during the day.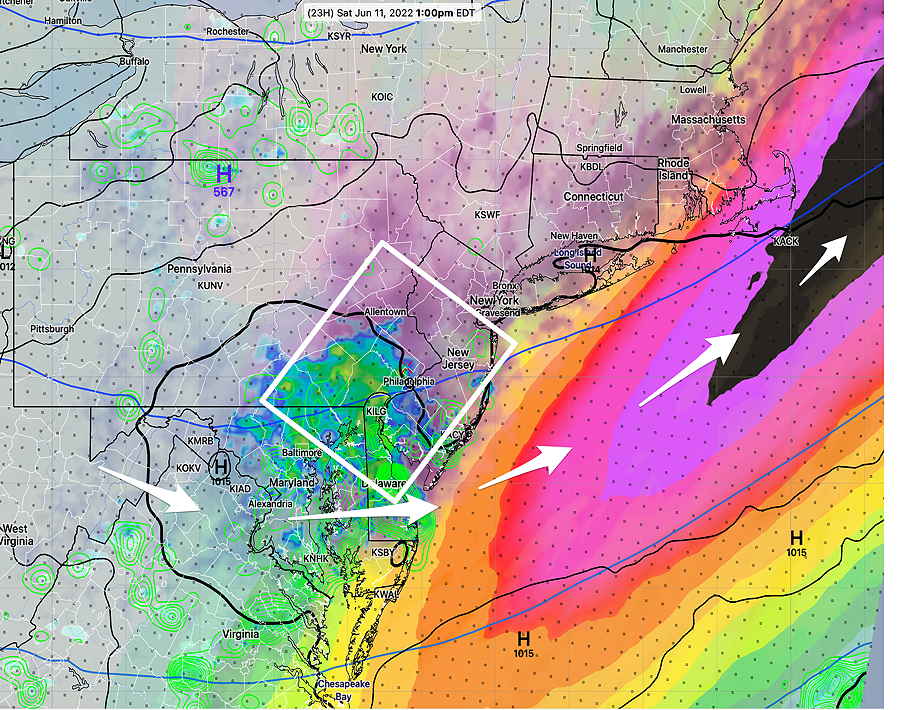 Saturday will be mostly cloudy in the morning. Showers move in between 12 and 1 PM from the southwest. Tonight's HIRESW shows the very light showers dissipating as they move north, and more sunshine in the afternoon.
Partial clearing skies late afternoon about 3-5 PM. High temperature 76.1º ± 3.5º (high spread/high uncertainty) Blue Bell, PA
Sunday
A warm front will move towards us as a another strong jet wind maxima approaches.
Areas of vorticity develop in a correspondingly active area of this jet streak. However, this time we'll be in a much more dynamic section of the jet streak. Expect thunderstorms, likely strong during the day and especially late afternoon and early evening. Heavy rains likely with the later storms.
Updated Fri 8:22 PM — After reviewing several other models, it appears that showers may begin as early as the morning hours Sunday.
The NBM paints a very cloudy and rainy/unsettled period throughout the day and evening.
High Temp 77.7º ± 2.3º NBM model, Blue Bell.
I'll be updating this over the weekend. Stay tuned.
---
---