Monday
Updated Sun 11:22 PM — Tonight's models show thunderstorms of greater intensity as the front moves into New Jersey early afternoon.
Update Sun @ 7:38 PM — Most models show the timing of the front as described below. But, the latest RAP model and GFS have the main wave of the front moving through much earlier. The GFS has showers starting as early as 10-11 AM and the RAP as early as 8-10 AM.
Update Sun @ 5:44 PM — A cold front will move through our area Monday morning through early afternoon with showers and thunderstorms.
The front is likely to come through in two waves— an early period 6-8 AM with very widely scattered showers and storms. Another wave approaches about noon to 2 PM with a more distinct line of showers and thunderstorms. No severe storms expected here. Heavy rainfall (1-1.5 inches) in some locales will be the main impact.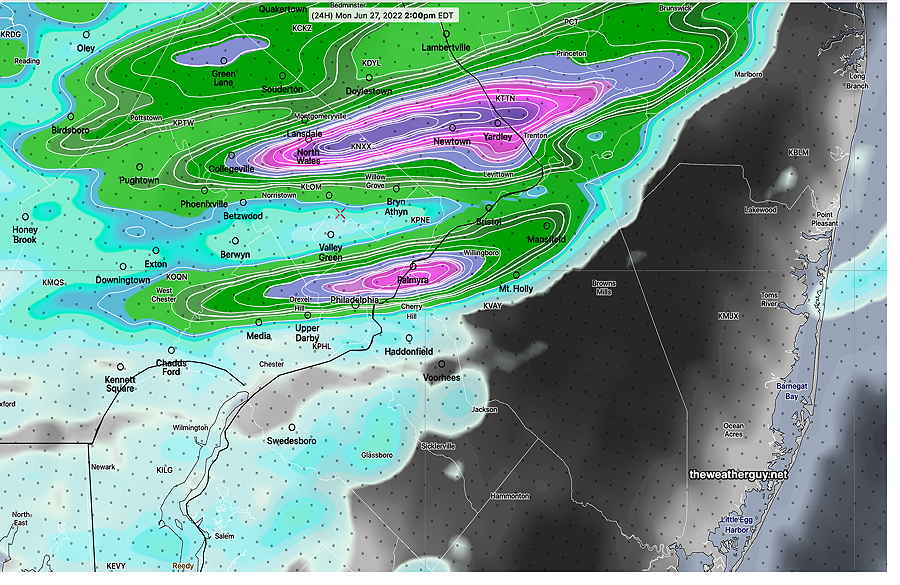 Since the front is coming through early, daytime heating effects will be minimized. This will reduce the likelihood of any severe weather. The energy with this front is distributed in two waves, also reducing severity. Possibly stronger storms will be nearer the Jersey shore and southward into Delaware.
---
---